Yats Wine Cellars present good selection
of half-bottles Bordeaux and Burgundy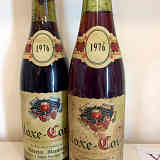 No more pouring unfinished bottles down the drain or feeling forced to finish all of it. That's just one reason why half-bottles are so popular among regular wine drinkers. And when you are enjoying wine with a few friends, these 375ml bottles enable everybody to sample more kinds of wine instead of having to drink the same one or two bottles throughout the whole evening.
As a good dinner party host, you should allow for different individual preferences in terms of matching wine with food. Serving a variety of half-bottles adds so much fun to the gathering. What wine lovers don't want to taste many different wines in one evening?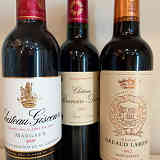 Clark Wine Center has collected a good selection of exciting French wines in these 375ml formats. They will cost a little more than half of the regular 750ml counterparts. It is a personal matter if the advantages offered by these half-bottles justify the extra cost. If half-bottles make good sense to you, then we should be seeing you soon at: CLARK WINE CENTER
Wine Shop located along main highway entering Clark going towards Mimosa
Wine Shop in Pampanga with four individual temperature controlled cellars for shopping enjoyment
Manuel A. Roxas Highway corner A Bonifacio Ave, Clark Freeport, Pampanga, Philippines
Opens every day at 9:30 am
http://www.ClarkWineCenter.com
Tel: (045) 499-6200
Mobile/WhatsApp/SMS: 0977-837-9012
In Manila,
Tel: (632) 8 633-1566
Mobile/WhatsApp/SMS: 0917-5204393