Yats Wine Cellars
bring wine tasting into the picture for event organizers planning to hold a cocktail reception for social gatherings, product launching, a prelude to a corporate function or a variety of parties and events. Wine Catering Services offered by Yats makes hosting wine tasting parties easy and enjoyable.
The traditional cocktail reception with servers walking around the hall with trays of Champagne, wines and cocktails is getting tired and ineffective. Wine is now more than a popular alcoholic beverage not only for the connoisseurs, the rich and the famous but a lifestyle for a large community covering a wide demographics of society of all levels. Event organizers have discovered that wine tasting grabs the attention of guests making invitation much more effective and the turnout to be much stronger.
However, wine tasting events are not easy to organize. They come with a certain level of sophistication so there are many ways that a party can be spoiled if not every single details are attended to with professional care.
Yats Wine Cellars is the leading caterer for social and corporate wine parties. Having conducted dozens of public wine tastings in Manila and in Pampanga over the last seven years, the wine catering services have all but perfected the system that covers design, planning, promotion and implementation.
A typical wine tasting package accommodates 30 to 120 persons. Larger groups can also be accommodated but the design and setup have to be modified slightly to account for queue management and crowd control.
Please click here to contact Yats Wine Cellars directly to start preparing for your upcoming wine tasting event.
Wine Tasting Theme
Paramount to the success of a wine tasting event is a carefully chosen theme. Participants expect a wine tasting event to be not just a lot of fun but an opportunity to further their knowledge and experience in wine. The large selection of wines and a good depth of vintages dating back several decades gives Yats Wine Cellars the freedom and flexibility to offer exciting themes for every wine tasting events. Some of the themes that have won the hearts of Philippines wine lovers include
• Comparative Tasting between New- and Old-world wines
• Four decades of vintage wines from France
• Five different styles of Champagne/Sparkling Wines
• The Art of Food and Wine Pairing
• Great Wine Regions of Europe
• Comparative tasting of French, Italian and Spanish Red wines
• Tasting of Five Major White Wine Styles
• Appreciating Dessert Wine and Port
Lineup of Wines for a Tasting Event
One of the frequent banes for a wine tasting event is a lackluster lineup of wines. Guests expect to taste wines that they don't usually see in wine shops and restaurants in Manila. Caterers must provide wines that form one of the attractions of the wine tasting event. Clients know very well that the wine caterer should be using the wines to promote the event, not the products of the caterer.
Software, Hardware and Service
Accessories must be complete. In addition to the obvious – wine tasting glasses – the caterer should arrive with decanters, wine thermometers, openers and other necessary accessories and equipment. On the software side, wine tasting notes must not be a simple extraction from the back labels of each wine. Perspective that stimulates interest and curiosity is what guests expect to read in these notes. Wine service is an art of discipline and well-practiced skills. Wrong preparation and serving temperatures can alter the demeanor of a wine, often denigrating its quality and class.
Venue
The choice of venue can be left to the client as long as it is conducive to the appreciation of wine. Service tables and a few other simple pieces of furniture and equipment are all that we need to cater successfully to a wine tasting event.
For example, smaller social gatherings of up to 50 people can be held quite comfortably in the club house of the condominium or residential subdivision. A wine themed office party can easily be organized in the conference room. Other venues that have been used to hold wine tasting in Manila include car show rooms, halls of upscale shopping malls and lobby of convention centers and theatres.
Alfresco events are a bit trickier but with ample time to prepare and set up the service stations properly, there is no reason why an outdoor wine tasting event can't be just as memorable even here in the Philippines.
Cost of a Wine Tasting Reception
Obviously the cost can vary quite a bit according to the quality of the wines required to match the stature of the function and the sophistication and level of expectation of the guests. An average good-quality wine tasting party costs something like this:
Mobilization and Service Costs: php 15,000.
Costing of Wines: php800 to 1,000 per person
A security deposit amounting to p200 per person is required and will be liquidated against damages and losses of wine glasses and other equipment.
Advanced payment is required.
So how do I make a reservation with Yats Wine Cellars for wine catering service?
That's easy. Call us at (632) 8637-5019 or 0917-5204393
Click here to contact Yats Wine Cellars to book a caterer for your upcoming wine tasting event.
Yats Wine Cellars is known among Asian wine lovers as a good source for well-priced vintage wines from all the major wine regions of the world. What makes shopping at Yats a lot of fun is the fact that we offer not only the familiar labels and expensive trophy wines but also lesser known but really interesting vintage wines of excellent value sought after by connoisseurs and beginners alike.
Wine catering services was a concept developed and made popular by Yats Wine Cellars here in the Philippines. It is not only the wine loving community in Manila, Cebu and Pampanga that has grown fond of the idea of holding wine tasting parties to entertain guests. The corporate world of Manila has also discovered how effective it is to apply wine into the formula of marketing and promotion. In recent years, wine tasting has been used in functions and events in Manila and other Philippines cities to help launch new products and new projects, entertain V I P guests before an auction or a charity event, liven up annual corporate dinner parties and awarding ceremonies.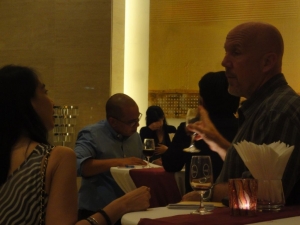 The impressive collection of wines from Philippines leading wine distributor Yats Wine Cellars has played an important role in ensuring successes in the wine events that Yats caters.
In addition to wines from recent stellar vintages, this wine importer in the Philippines offers a very large selection of 20- to 40-year-old matured bottles that are sought after by connoisseurs and seasoned wine drinkers in Asia. Some of these wines are available through boutique wine shops in Ortigas and Fort Global City in Manila. Others can be ordered from their wine shops in Manila and Pampanga or the main sales office in Ortigas for delivery within Metro Manila or shipped to other parts of the Philippines.
Yats Wine Cellars is a wine distributor in the Philippines that caters to the growing population of discerning wine lovers. Wine shoppers looking for good wine shops where they can buy wine in Manila, Pampanga, Cebu or other major cities in Philippines are pleased to find a large selection of vintage wines and lesser-known labels and appellations also. That is a wine story of the Philippines that wine lovers in Manila and Pampanga talk about.
The vintage wines of Yats Wine Cellars are also purchased as gifts. One popular birthday gift idea is a "birth year wine", a wine with a vintage year same as the year of birth of the recipient. Yats Wine Cellars is one of the few wine shops in Manila and Pampanga that carries wines dating back 100 years and offers advice on what types of wines from what regions are best for each year in the past. Special vintage cards covering older vintages are also available.
Yats Wine Cellars is one of the wine suppliers that devote a great deal of attention and effort to wine education aimed at enabling wine lovers to enhance their knowledge of wine as well as to develop a discerning palate for fine wines. To that end this leading wine supplier in Philippines frequently hold public wine events that are not sponsored by wine producers and not intended to promote a certain brand.
Just click here to contact Yats Wine Cellars directly for inquiries and purchases.
Yats Wine Cellars
Manila Sales Office
3003C East Tower, Tektite Towers,
Exchange Road, Ortigas Center, Pasig,
Metro Manila, Philippines 1605
Tel: (632) 8637-5019 0917-520-4393
Ask for Rea or Chay
Wine Shop, Cellars and Warehouse in Pampanga
Clark Wine Center
Bldg 6460 Clark Observatory Building
Manuel A. Roxas Highway corner A Bonifacio Ave,
Clark Field, Clark Air Base,
Clark Freeport Zone, Pampanga, Philippines 2023
Tel: (045) 599-5600 / 0977-837-9012
Ask for Jojo or Luis
Click here to contact Clark Wine Center to obtain further assistance.
FACEBOOK: The Facebook account of Yats Wine Cellars, called Yats.Wine is a media with which the professionals at Yats as well as fellow wine professionals in the trade throughout the world will share with our friends and wine hobbyists in the Philippines knowledge, findings, experiences, tasting notes, insights and opinions about wine, food-wine pairing and news about wine.
Click here to sign up to be a friend of Yats Wine Cellars to keep abreast of what's happening in the wine scene in Philippines.
Yats Wine Cellars started opening small boutique-sized convenience wine shops in major locations of Manila. Through these wine outlets in Manila, Yats Wine Cellars hope to bring interesting selections of fine vintage wines to wine lovers in Manila at attractive prices.
These convenience wine shops carry about 300 selections of wines at prices starting at p500. These good-quality wines represent not only good value for money but they are also very interesting not only to novices but seasoned wine drinkers in Manila.
Please click here for information about the wine outlet shops of Yats Wine Cellars in Manila and Pampanga, Philippines.
Although there are plenty of good restaurants in Manila as well as a growing number of gastro pubs mostly in the Fort Bonifacio Global city and Makati areas, food and wine lovers travel out of town north of Manila to wine and dine in Clark Air Base which is now called Clark Freeport Zone of Pampanga.
Ranked as the top restaurant in Pampanga, Yats Restaurant and Wine Lounge not only offers good food, excellent wine selection and attentive service, it is also one of the restaurants in Pampanga that is great for group dinners, business entertaining and celebrating birthdays and anniversaries also. Semi-private and private rooms are available for groups of 5 to 50 here in this fine dining restaurant in Clark.
Yats Restaurant is one of the restaurants in Clark Air Base that is well known to residents of Angeles City, Subic, Manila, Tarlac and Clark Philippines as a good place to eat in Pampanga. Recently, event organizers and corporate planning departments have discovered that this famous restaurant in Clark Pampanga is also a very good venue for group dinners and corporate functions, not to mention parties and celebrations for other special occasions outside of Manila in North Luzon.
Just click here to contact Yats Restaurant and Wine Lounge directly for inquiries and reservations.
Private dinners can be accommodated in this famous restaurant located in Mimosa, at the heart of Pampanga Clark Freeport. Private rooms suitable for 4 to 24 can be reserved in advance at this impressive restaurant in Pampanga for company and personal functions and events in Clark. This fine dining restaurant in Pampanga is a very popular event venue for small wedding receptions, social events, company board meetings and annual parties. Even companies from Manila travel to Pampanga to hold their functions and events in this well known fine dining restaurant in Pampanga.
Besides good and impressive restaurants to wine and dine near Manila, Subic or in Angeles City Pampanga, Clark Philippines, those requiring assistance for hotel and resort bookings in Clark, Pampanga, Philippines may log on to http://www.HotelClarkPhilippines.com for more information and reservations.
Clark Pampanga is not only frequently visited for its good restaurants and fine dining establishments, it is also a highly recommended wedding destination especially for couples looking for outdoor garden reception venues and beach weddings. For assistance and information on wedding venues and how to organize a wedding reception, log on to http://www.PhilippinesWeddingVenue.com
Those visitors who plan to relax and unwind in Angeles City, Subic, Pampanga, Clark Philippines might make an effort to book a room at the famous beach and lake resort Clearwater Resort and Country Club. This famous hotel in Clark Pampanga is frequently visited by families with children looking for a good place in Clark to see, a good holiday destination for the family to relax and unwind in the beautiful outdoor facilities. For more information, log on to www.ClearwaterPhilippines.com
Yats Wine Cellars would like to take this opportunity to remind all our wine-loving friends to "drink less, drink better".